GEORGIE'S ETHOS
Our mission is to create delicious wine to be enjoyed with friends and family, not sitting in the cellar covered in dust. 
READ GEORGIE'S STORY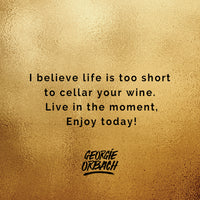 WORD ON THE STREET
Drinking our bottle of chardonnay we got today from the Good Food and Wine Festival. Absolutely amazing. Would highly recommend to anyone.

Kate Clapperton, VIC
Love that Georgie has paired music with her wine! Awesome stuff!

Jackie Leaver, VIC
Ordered my springtime party pack yesterday and received them today. Now time to sit with friends and enjoy the wonderful wines.
Thank you Georgie for the great service x

Suzanne McMillan, VIC
Diverse wine list. Big fan of the rose on a hot day, easy to drink and refreshing. I also really enjoy the Shiraz rich in flavour, goes great with a cheese board or dinner.
Can't wait to try the rest.

Banan Mahmoud, VIC
WINE GIFT GIVING? - WE'VE GOT IT COVERED!